Cialis: Composition And Place in Drugs Classification
Cialis
Cialis is a medicine the active substance of which is Tadalafil in a dosage of 5, 10 or 20 mg. It is produced in form of pills by the US pharmaceutical company Eli Lilly. The auxiliary substances that make up the pills and form their mass and shape include lactose monohydrate, hyprolose, sodium lauryl sulfate, MCC, croscarmellose sodium and magnesium stearate. The pills are coated with a film membrane, which includes a yellow dye, which in turn consists of several compounds. However, for the consumer, only the main ingredient is of interest, since it is Tadalafil which is responsible for the effect of the drug on the body.
Tadalafil causes the affiliation of Cialis to type 5 phosphodiesterase inhibitors (PDE-5). The medicines of this group inhibit the production of the enzyme PDE-5 in the organism.
When Is Cialis Used?
The most common area of application of Cialis (Tadalafil) is the treatment of erectile dysfunction (ED, impotence). Also, this drug is successfully used to reduce the symptoms of benign prostatic hyperplasia (BPH).
This medicine is used to treat erectile dysfunction of both organic and psychological origin. Due to suppression of the production of the PDE-5 enzyme in male organism, the blood vessels of the penis are dilated and the blood flow to its cavernous bodies is increased. Subject to the presence of sexual arousal or direct stimulation of the genitals, this leads to the formation and maintenance of an erection.
It should be remembered that in the absence of sexual stimulation, desire or in conditions accompanied by a decrease in libido (serious hormonal disorders, taking certain medications, especially psychotropic drugs), the drug will not have the desired effect, since it is not an aphrodisiac and doesn't affect the endocrine system, i.e. doesn't change the production of hormones and their level in the male body.
Cialis doesn't affect the quality and volume of the produced seminal fluid and pre-ejaculate. Taking this medicine does not in any way affect conceiving a child, so the situation when a man takes this medicine to increase potency is not a contraindication for planning a pregnancy.

How Is Cialis Used?
As already mentioned, Cialis is made in the form of pills. A pill should be taken with water. The intake doesn't depend on food intake – you can take the medicine on an empty stomach, with or after meals, this doesn't affect the rate of absorption of the active substance into blood and the degree of its effect on the male body. This makes Cialis (Tadalafil) positively different from other drugs related to PDE-5 inhibitors, whose effect is weakened when taken with food, especially heavy or greasy.
Cialis can be combined with alcohol, but with a large amount of the latter, the effect of the drug is weakened, and the load on the cardiovascular system is increased. Therefore, it is better not to abuse alcohol, but limit it to a couple of glasses of wine or shots of whiskey.
Don't take more than one pill per day, regardless of its dosage. The dosage that suits you is determined by the doctor. Its selection is influenced by such factors as the severity of erectile dysfunction, its cause, the presence or absence of concomitant diseases, what other medications you take, as well as your weight, a tendency to allergic reactions, etc. Before buying Cialis, it is recommended to undergo a medical examination and pay special attention to the state of the cardiovascular system.
If your main problem is insufficient erection, then there are two schemes for taking Cialis. The first one – on demand, it is when you take the pill shortly before sexual activity, and on those days when sex is not planned, you don't resort to the help of this medicine. Usually in such cases, the doctor prescribes 10 mg or 20 mg of Tadalafil. The second treatment regimen is daily intake of Cialis in a dosage of 5 or 10 mg, much less often – 20 mg. In this case, you don't have to worry that suddenly you are not ready for sex, because the blood level will maintain a constant level of Tadalafil. Consult your urologist to determine which option is best for you. Usually, the daily intake of Cialis for ED is justified only in the case of regular, literally daily sexual life.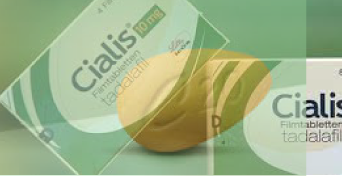 In the case when Cialis is used to treat BPH, the most common treatment regimen is daily intake of 5 mg pills. This provides a constant effect of the drug on the prostate gland, reducing its inflammation, eliminating stagnation of blood due to improved blood circulation, as well as reducing unpleasant symptoms such as frequent and painful urination. The medicine can be used alone or in combination with other means of BPH treatment.
Precautions While Taking Cialis
Before taking this medicine, it is strongly recommended to consult a doctor. This drug should be taken with caution by those men who are allergic to any of PDE-5 inhibitors and tend to have allergic reactions to medications in general. If you have a history of any cardiovascular disease, be sure to notify the urologist about it.
Avoid the combination of Cialis with any narcotic substances, including marihuana, because the reaction of the organism can be unpredictable, up to serious violations of the work of heart and even death.
Please note that if you have a strongly curved penis, taking Cialis may be unsafe because of increased filling of cavernous bodies with blood. However, a penis curvature of up to 15 degrees to either side in an erection state is a physiological norm and should not cause concern. If the deformation is caused by cavernous fibrosis or Peyronie's disease, it is better to do without taking any PDE-5 inhibitors.
Avoid combining Cialis with grapefruit or grapefruit juice. This seemingly harmless fruit inhibits the production of liver enzymes necessary for splitting Cialis (Tadalafil) and removing it from the organism. As a result of an insufficient amount of these enzymes, this substance enters the bloodstream in an amount greater than planned for a particular dosage, which can cause an overdose.
If for any reason you have an overdose of Cialis and you experience symptoms such as chest pain or shortness of breath, you should contact the poison control center or your local emergency medical service. Do not try to rinse your stomach yourself or perform any other medical procedures.
Side Effects of Cialis
Due to the characteristics of its active substance, Cialis is characterized by a number of side effects, which, however, are not necessarily manifested in each patient. In each case, the reaction is individual, and quite often the man does not experience any unpleasant sensations at all. It is due to the reduced number of side effects that this medicine has gained great popularity both in the USA and in many other countries of the world, surpassing Levitra and almost catching up with Viagra.
Relatively common side effects of Cialis include dizziness, headache, indigestion, nasal congestion and a rush of blood to the skin of the face, which the patient subjectively feels as slight fever. This is not a small list, but the situation when all these symptoms are observed in one man is rare.
Significantly less often, patients experience back muscle pain, nausea or vomiting, tachycardia, chest pain.
Please note that if you feel chest pain or heart palpitations, it is advisable to stop taking the medicine and consult a doctor, because these symptoms may indicate that your cardiovascular system perceives Cialis as too much stress. Perhaps the doctor will adjust the dosage prescribed to you or select some other remedy to restore potency. Also, many patients are alarmed by lightheadedness, that is, severe dizziness and darkening in the eyes when moving from a lying position to a sitting position or from a sitting position to a standing one. However, this condition is not a cause for concern, and to avoid it, it is enough to smoothly move from one position to another. The reason for its occurrence is a sharp but short-term drop in blood pressure.
As a rule, with regular intake of Cialis, the listed side effects weaken, disappear faster after taking the pill, or cease to appear at all. This is normal and indicates that the organism tolerates Tadalafil well. This active ingredient is not addictive, and a decrease in the severity of side effects doesn't indicate the development of psychological or physiological addiction.
Contraindications for Taking Cialis
Like other medications from the group of PDE-5 inhibitors, Cialis has a number of contraindications, although in the case of this medicine they are less pronounced and not so often encountered in principle. However, take information about them seriously, because using this medicine in case you have certain diseases or take certain medicines can seriously harm your health.
Tadalafil should not be taken by patients under the age of 18, as well as women, since this medicine is designed specifically for influencing male physiology. Avoid taking this medication if you have suffered a stroke or heart attack in the last 6 months, suffer from angina pectoris, severe heart failure, heart rhythm disturbances, severe hypertension or hypotension (high or low blood pressure), hereditary diseases of the retina of one or both eyes, and liver failure. Also, this drug is not recommended to be taken with a predisposition to priapism or if you have ever experienced an attack of this disease, because Tadalafil can provoke the appearance of a too long-lasting erection, harmful to the male body.
Cialis shouldn't be taken in combination with drugs such as ketoconazole (it greatly increases the amount of Tadalafil in the blood, which can lead to an overdose of the latter), ritonavir and some other HIV protease inhibitors (consult your doctor, in some cases this combination is possible, but with dosage of Cialis no more than 10 mg), antacids (they greatly reduce the absorption of Tadalafil in the blood) and a number of drugs for the treatment of arterial hypertension (because of the fact that their combination with Cialis can lead to a strong drop or, on the contrary, rise in blood pressure).
What Drugs, Besides Cialis, Are Used Today To Treat Ed?
In addition to radical means that help a man perform sexual intercourse (such as injecting of certain drugs into the cavernous bodies of the penis or falloprosthetics), as well as general strengthening drugs (decoctions and extracts of various herbs, dietary supplements and vitamins), the most widely used medications to combat erectile dysfunction are drugs related to PDE-5 inhibitors. These include the widely used Cialis, Viagra and Levitra (active ingredients Tadalafil, Sildenafil and Vardenafil), as well as the less popular, but no less effective Avanafil (Stendra, Spedra) and Udenafil (Zydena). The latter drug has not yet received FDA approval, but has already entered the international pharmaceutical market.
In February 2019, the British pharmaceutical company Futura Medical announced the development of a fundamentally new approach to the treatment of erectile dysfunction, which affects more than half of men over 40 years old. Futura Medical specialists are conducting clinical tests of a drug called MED2005, which, unlike all PDE-5 inhibitors used today, is planned to be released in the form of a gel applied directly to the penis before sex. The technology that the company uses and which ensures the transport of the active substance from the skin of the penis to the inside is called DermaSys. This technology is similar to that used in the manufacture of Vitaros, a cream containing alprostadil. MED2005 is based on the active ingredient glyceryl trinitrate (GTN), which is similar by the principle of its effect on male genital organs, but was originally intended to treat angina pectoris.
MED2005 is currently undergoing the second stage of the European trials. The third (last) stage of research is planned to be completed by the end of 2019. With a positive outcome of all clinical trials, the drug will enter the pharmaceutical market in the second half of 2020.
This article was reviewed by Mahraz Nickkho