Viagra: Detailed Review
Viagra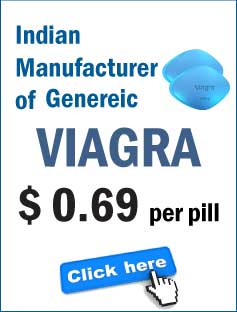 Despite the fact that many dangerous diseases, especially of pandemic nature, are now a thing of the past thanks to the achievements of modern medicine, others are becoming more common, such as diabetes, cancer, allergies, as well as erectile dysfunction. The latter, though not lethal, spoils the quality of life of millions of men around the world. Fortunately, in most cases, this problem can be solved with the help of modern drugs to combat impotence, the first place among which for twenty years deservedly belongs to Viagra.
In this article we will describe in detail all that may be of interest to the average user about Viagra: what it used for, dosage regimen, side effects, purchase options and many others. You will learn about pricing of Viagra, its competitors and the history of the invention of this drug for men, which made possible the effective and safe treatment of impotence.
Viagra is manufactured in form of little blue diamond-shaped pills. The active substance of this medicine is Sildenafil Citrate, a PDE-5 inhibitor. Pills differ in dosage forms – each one contains 100, 50 or 25 mg of the main ingredient.
When Can Viagra Be Used
Traditionally Viagra is prescribed to men over 18 years of age against erectile dysfunction both of physiological (circulatory disorders in the pelvic organs, diabetes, atherosclerosis) and psychological etiology (overwork, neurotic disorders, depression, psychological trauma, self-doubt, fear of sexual failure), and also in cases where the weakening of an erection is caused by a combination of these two factors. However, Viagra will not be able to help you if difficulties in bed are caused by spinal injuries or brain diseases such as tumors, epilepsy, Parkinson's disease. You should not use this medicine for hormonal disorders, because Viagra doesn't affect the endocrine system and doesn't increase libido. If you have a reduced level of male sex hormones or an increased level of female ones, an endocrinologist should carry out the treatment.
Treating ED is not the only way to use this medicine. Other uses of Viagra include treatment of pulmonary hypertension (the medicine which contains Sildenafil citrate used for this purpose is called Revatio), Raynaud's phenomenon, mountain sickness and congestive heart failure or diastolic dysfunction, Harvard Medical School reports. Of course, these methods of using Viagra are secondary and together constitute about 10% of all prescriptions.
Dosage Regimen and Guidance on Taking Viagra
The most commonly prescribed dosage of Viagra is 50 mg. This is sufficient for a significant improvement of erection in vast majority cases. Such amount of Sildenafil citrate provides optimal balance between effectiveness and severity of side effects. However, for many men whose potency problems are psychological, especially for those who are just starting to have sex, taking a pill with a dosage of 25 mg is enough. At the same time, some patients need tablets with a dosage of 100 mg, especially if they have had symptoms of erectile dysfunction for a long time, and their normal sex life has remained somewhere in another dimension.
A pill of Viagra should be washed down with water. The optimal time for taking the medicine is about forty minutes before the intended sexual act so that the active substance has time to be absorbed into the bloodstream and have its effect. This period may vary in on the individual characteristics of the male body. If you are taking Viagra for the first time, you may need to experiment with the optimal reception time.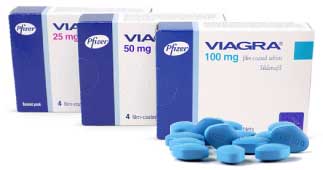 Note that the rate of onset of the effect is affected by the amount of food you take with the medicine. Note that the rate of onset of the effect is affected by the amount of food you take with the medicine. Excessive and especially fatty foods slow down the onset of effect and weaken it, so it is recommended to take Viagra during or after a light snack. When a pill is taken on an empty stomach, side effects such as stomach pain, indigestion or indigestion may be more pronounced.
It is important to note that it is not recommended to combine Viagra with alcohol. This leads to an increase in the load that the active ingredient of the drug has on the cardiovascular system, and can not only negate the effectiveness of the pill, but also lead to health hazardous consequences. In a pinch, limit yourself to a glass of wine.
How Does Viagra Work for Improving Erection?
Perhaps, one of the most frequent questions that men ask about Viagra is how it works, how Sildenafil improves erection.
As already mentioned, Viagra belongs to PDE-5 inhibitors. Sildenafil citrate selectively inhibits cGMP-specific enzyme PDE-5, which is responsible for the breakdown of cGMP in the cavernous bodies of the penis. By blocking PDE-5 and stabilizing cGMP, Viagra enhances the effect of nitric oxide, which activates guanylate cyclase. This leads to an increase in cGMP, relaxation of the smooth muscles of the cavernous bodies and the influx of blood to them. In addition, relaxation of the smooth muscles of the blood vessels of the penis is achieved, which further contributes to their filling with blood.
Thus, Viagra has an impact on the natural process of the emergence and cessation of erection, accelerating the time of its occurrence, enhancing and prolonging it.
It is important to remember that taking Viagra by itself does not cause an erection. It appears only if the man is aroused or is experiencing sexual stimulation. It is this property of the drug that makes it safe for intimate health and differs it from aphrodisiacs.
Another frequent question is how long does Viagra last. The period of effect of this medicine is different in various patients, but on average it is about 5 hours. Some men report that that in their case the medication lasted for 4 hours, and some – that they felt the effect during 6 hours.
Viagra stays in the system during one day
Viagra Side Effects
Side effects are a hot topic in any discussion about Viagra. Let's consider the unpleasant sensations most often experienced by men who are faced with the need to restore potency with the help of this drug.
The most frequent side effects are headache, a feeling of a rush of blood to the skin of the face, visual impairment (color distortion), nasal congestion, dizziness. The more rare include tachycardia, a decrease or increase in blood pressure, allergic reactions, nausea, dyspepsia, back pain, dizziness. It is extremely rare for one patient to have more than two side effects at the same time.
Some patients report that when they first take Viagra, the discomfort is more pronounced than in subsequent intakes. However, this information may be useful only for men who regularly take this drug.
As for interactions of Viagra with other medicines, it is forbidden to take Viagra with other medications for the treatment of erectile dysfunction, especially PDE-5 inhibitors, HIV protease inhibitors, some antifungal drugs such as itraconazole, as well as with nitric oxide donors and drugs containing nitrates. Before you begin treatment with Viagra, carefully review the other drugs that you take, so as not to harm your health.
Viagra Contraindications
Viagra has quite a large number of contraindications, but the main one is cardiovascular diseases. Of course, it is difficult to find a man over the age of 45 or 50 who has absolutely healthy heart and blood vessels, and you can take Viagra if you sometimes have tachycardia or blood pressure rises. However, in case of severe diseases, such as various arrhythmias, heart failure, coronary heart disease, severe hypertension or a tendency to hypotension, it is better to refuse to take Viagra and to treat associated diseases instead of impotence. The result may be useful for intimate health as well.
Among other contraindications to the use of this drug on the basis of Sildenafil citrate are hypersensitivity to the main active ingredient, use together with other drugs to enhance erection, severe liver failure, lactose intolerance, ischemic neuropathy of the optic nerve, hereditary retinitis pigmentosa, severe renal failure.
The drug is not indicated for use by women.
Take Viagra with caution if you have anatomical deformities of the penis, for example, cavernous fibrosis, as well as diseases that predispose to the development of priapism. Gastric ulcer and duodenal ulcer in the acute stage are reasons to postpone taking this medication.
Where To Buy Branded Viagra
The simplest way to buy original Viagra is to visit ordinary local drugstores (it depends on the drugstore and the country where it is located whether the prescription will be needed). However, in local pharmacies the prices for this med are rather high. As for online purchasing, a lot of Internet drugstores offer branded Viagra pills at lower prices, with discounts and loyalty programs. Usually men who use this drug regularly prefer making orders for Viagra online.
The most official and reliable way to get Viagra is to order it via PfizerDirect. This is a system of interaction of the manufacturer of this medicine with the online pharmacies, which guarantees the customer best quality of the drug. You can learn more about it at www.viagra.com.
Viagra cost per pill varies in different online and offline pharmacies. For example, the price of one 50 mg pill in the US can be $3.72 as well as $1.01. Such a wide range is due not only to the pricing policy of different pharmacies, but also to the number of tablets you place an order for. There is a general rule: the more tablets in the order, the lower the price of each of them. That is why those customers who stock up on medicine for a long time get the most favorable conditions.
For 2017, sales of Viagra in the United States amounted to about 0.87% of the volume of sales of all drug brands in the retail pharmaceutical market. Among the drugs to combat erectile dysfunction, the share of Viagra sales is about 62%, which leaves far behind even the most popular competitors of this med – Cialis and Levitra, who received only 27% and 8%, respectively.
Pfizer's annual advertising costs for Viagra are $ 400 mln, with a profit of $ 1 bln from sales of this drug. Compared to 2012, the company's revenue from the sales fell almost twice, as can be seen in the chart at this link.
The fall in profits is caused by the start of production of high-quality and numerous generics of Sildenafil, which are much cheaper than the original drug. In connection with this not very optimistic statistics, Pfizer in the near future intends to start production of its own licensed generic Viagra, in order to take control over the market of analogues. So far, the company is at the negotiation stage with a French pharmaceutical company, whose name has not been disclosed.
Main Competitors of Viagra
The main competitors of Viagra, about which literally every man who chooses medicine to combat erectile dysfunction has probably heard, is Cialis and Levitra. Both of these drugs also belong to the PDE-5 inhibitors.
The main active ingredient of Cialis is Tadalafil. It has a milder effect on the body tin comparison with Sildenafil and provides a long-lasting effect, remaining in the organism for up to 36 hours. Cialis is widely used to treat not only ED, but also benign prostatic hyperplasia (BPH), while other drugs for improving potency should not be used in case of this disease.
The active substance of Levitra is Vardenafil. It acts for about as long as Viagra, but is popular with men who suffer from premature ejaculation. This medicine significantly prolongs sexual intercourse, but may decrease the sensitivity of the penis
Despite the relatively high popularity of Cialis and Levitra, Viagra is used much more often, which proves its high efficiency.
What Is Generic Viagra?
Most men interested in treating his potency problems and searching for quality Viagra at low prices sooner or later step over the mention of generic Viagra. Let's find out what is the generic brand for Viagra, what are the differences in comparison with the original medicine and which variant is better.
Generics are analog medicines, i.e. their composition is equal to the one of the prototype medicines, but they are manufactured by other pharmaceutical companies and are released under different names. So, in the example of Viagra, generics of this medicine contain the same dosage of Sildenafil citrate as the branded medicine and act in the same way. However, auxiliary substances may differ, as well as form of production – the drug can be presented not only in pills, but also in sachets or soft tablets. Color, size and shape of the pills vary a lot.
As a rule, preference for generics is given by patients who regularly take Viagra and want to save money. It is important that in the pursuit of profit we must not forget about quality, because generics do not pass such strict control as the original drug. At the same time, the products of many manufacturers are more than quality and are not inferior to Viagra made by Pfizer. Samples of generic Viagra, which are well established in the international pharmaceutical market, include drugs such as Kamagra, Silagra, Viagra Super P-force and a number of others.
Viagra Across The World
The popularity of Viagra and its costs across the world are different. In the USA, in the birthplace of the brand, Viagra has been at the forefront during all twenty years of its existence, but it is a very expensive medicine for an average man. In Canada, Viagra is bought less frequently, although it is ahead of all other pills against impotence in terms of sales. In England, the number of buyers who give their preference to this medicine has increased significantly in recent year, when it became possible to purchase it without a doctor's prescription. In the field of pharmaceutical law, England is one of the most advanced countries in the world.
In India, branded Viagra is not as popular as its generics. The fact is that in this country there are a lot of companies that produce good generic Sildenafil, which are sold at low prices.
In China, folk remedies for the treatment of ED on the basis of various herbs and other medicinal plants are popular. Chinese do not produce high-quality generics, and branded Viagra is sold at extremely inflated prices there.
New Zealand is one of the few New World countries where Viagra can be bought at a fairly low price. New Zealand's online pharmacies deliver this drug to many other countries around the world.
Can Viagra Be Bought Over The Counter?
People who intend to undergo treatment with Viagra often wonder if this medicine can be bought over the counter. This is possible, but not in every country, and it is advised to consult an urologist before taking this medicine. However, if you are ready to bear responsibility for your health, you can order non-prescription Viagra from Canada. Some online pharmacies of this country support the policy of selling Sildenafil-containing drugs without a doctor's prescription. You will be shown a warning that you are going to obtain Viagra without prescription when making an order. Also, you can buy this medicine OVC online or offline in the UK, since recently this country has included Viagra and its generics into the list of non-prescription drugs, because men who refused to go to the doctor before the purchase were just ordering generics of Viagra from India.
In the US, most individual health insurance plans cover the treatment of erectile dysfunction with Viagra, but note that you can only refund the cost of this medicine if you have a prescription from an urologist. In case of an "illegal" purchase, the cost of the pills will not covered by your insurance.
The History of Development of Viagra
Viagra's main active ingredient Sildenafil Citrate was synthesized in late 1990s by the scientists of an American pharmaceutical company Pfizer. Prior to the invention of this drug, all attempts at treating erectile dysfunction either turned out to be useless or resulted in serious unpleasant consequences for the entire organism, since the drugs used were often akin to narcotic substances and were very toxic.
The irony of the situation lies in the fact that Sildenafil was originally developed as a medicine to combat pulmonary hypertension, and its property of improving erection became apparent only during clinical trials. The manufacturer had to redo all the documents and conduct additional tests, after which in 1998 Sildenafil citrate was released into mass production under the patented name Viagra. This medicine has become revolutionary in the field of urology, and is the first thing any man thinks about when he heard the words "pills for improving erection".
This article was reviewed by George Abdelsayed, MD